Report on Shanghai Badminton

Report on Shanghai Badminton
Feb. 22, 2012  Article: Shibuya (Recorder: Advisor, Photo/Report: Mr. and Mrs. Takatsuma)
For every badminton lovers, Shibuya site hope to have your continued support this year. Partners around the globe are going to report their field observations and differences in the world. The first report comes from Shanghai, China, featuring observations from the partner who took up a post there and his wife along with my experiences.
Besides major events like the Badminton China Open, the stadium competition place where our daily practice took place locates in a whooping building like Mokuhari Messe. The floor is made by concrete. The competition and practice space showed in the photo is ordinary stadium before net setting.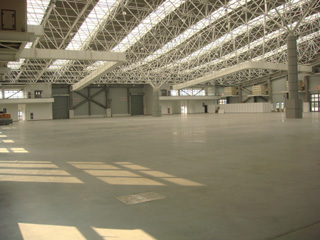 ▲ The large stadium for competition and practice
The impression clearly changed after setting the net and court wrapper. Can you see the Yonex logo? It is owned by the reporter. Rackets bags and rackets in China are mostly made in China. For those who tried both, it is clear that Japanese ones got superior quality.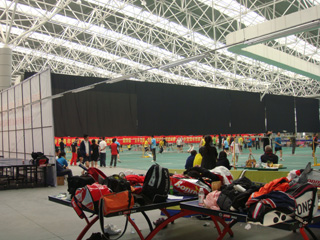 ▲ After setting the net and court mat
There was a competition in Shanghai on both 18th and 19th. This stadium was designated for badminton only. The poster of world's first ranking player – Lee Chong Wei is displayed on the side of the stadium.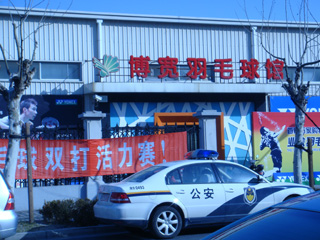 ▲ Police car at the stadium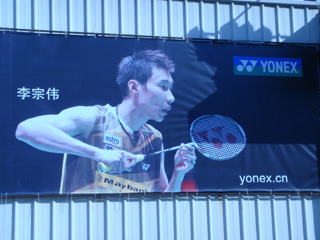 ▲ Poster of Lee Chong Wei is displayed on the wall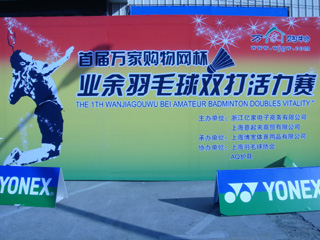 ▲ Entrance with eye-catching Yonex logo
The stadium has 20 ordinary courts. Court mats had been set on the floor. Japanese people might feel pretty or magnificent. Nevertheless, players have their shoes on to the court side before changing to badminton shoes. It is astonishing for we who are used to take off our shoes before entering the stadium. Sometimes high clears fail because of the low ceiling. Reporting seemed to be worried, however they seems to be comforted knowing that the competition would be held on the 7 VIP courts separated aside.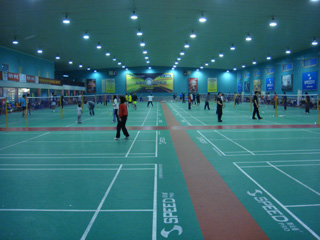 ▲ Ordinary badminton court with lower ceiling
There are 162 entries for men double, 29 entries for women double, and 69 entries for mixed double. It is normal to have more participants than that in Japan. The rule this time is 1 game with 21 points. Only final match is made up of 3 games with 21 points each. Matches are played without setting.
Players are categorized into 3 levels, which are professional, semi-professional and non-professional players. Professional and semi-professional players are more common in larger competitions. This competition is only for non-professional players, which means pro-players are not allowed. Finally, here comes the big news. The reporter couple won the first place in mixed double. Counting the men double and women double, the first places were all won by the Beach team . They must have had a nice celebration party. They are so fitted into the place that cannot be easily recognized. Badminton players around the world are very friendly. Peace with the world just by being able to play badminton.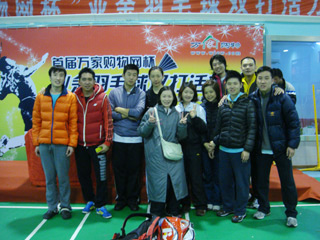 ▲ Reporter and his teammates.