Presenting graduates to the stage of Olympic Games
Mar. 20, 2012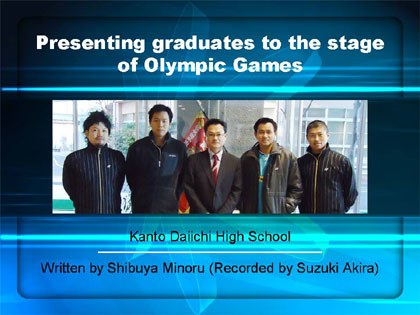 "Sasaki Sho - beloved disciple of vice-principle Shibuya while being badminton club consultant, won the ticket to Olympic Games 2012 in London.", reported by Nikkei News. I tried to conclude his teachings. Days in senior high school are critical to each of you. The successful record of badminton training by vice-principle Shibuya might be also useful for those who set their goals in academic fields.
A continuation is here.

I was the adviser of the school's badminton club before being promoted into the assistant principal of the Kanto Daiichi High School this year.
  When Japanese Olympics players Shoji Sato and Sho Sasaki were high school students at this school, I brought them to a championship in Malaysia and there I met the Malaysian coach, Misbun Sidek.
He taught me the basics of player development.
  He has taught the national no.1 player of Malaysia, Lee Chong Wei that, "Change your thinking in badminton, change your life", "Improvement on skills alone will not bring you to the top".
  Lee won the silver medal in the 2008 Olympic Games, becoming the first Malaysian to reach the final of the men's singles event.
Changes in thinking will change your action; Changes in action will change your habit; Changes in habit will change your living; Changes in living will change your way! of living; Changes in your way of living will change your human nature; Changes in human nature will bring you more chances; Seizing the golden chances will change your fate; Changes in fate will change your life; This chain is always true and one can change his life with his own will if he is well prepared and put in continuous effort.
Whenever I meet specialists from different professions, I always keep in mind to consult them about their experiences and what they bear in mind about coaching.
  The teaching steps that they have shared with me are almost the same as those Sidek has taught me.
  Everyone including school teachers, school administators and people with corporate background were telling me the same things: Change your way of thinking, act now, form good habits, and the chance will come, then your life will be changed.
They ev! en told me that player development method that I have learnt from badminton is applicable at any place: the school, the company and the society.
  I believe in their words and accomplish my job as an assistant principal.  Believe me that you can change your life and fate.  Please help me to promote this we bsite.